Virtual Attendance
The conferences will be streamed on X.Org's YouTube channel (https://www.youtube.com/c/XOrgFoundation).
List of all the upcoming livestreams can be found on YouTube.
To participate in the discussion and Q&As join our Matrix Space (https://matrix.to/#/#xdc-wineconf-fossxr-2022:matrix.org).
Venue
We will be meeting at the University of St Thomas Opus Hall in downtown Minneapolis, Minnesota. The best address to enter into map software is 30 South 10th Street, Minneapolis MN.
When you check-in, please head to the Opus Hall. We'll have our welcome table right outside of rooms 201/202 where XDC conference is taking place. To most easily get to the welcome table, set your GPS to 30 South 10th Street, and enter through these doors: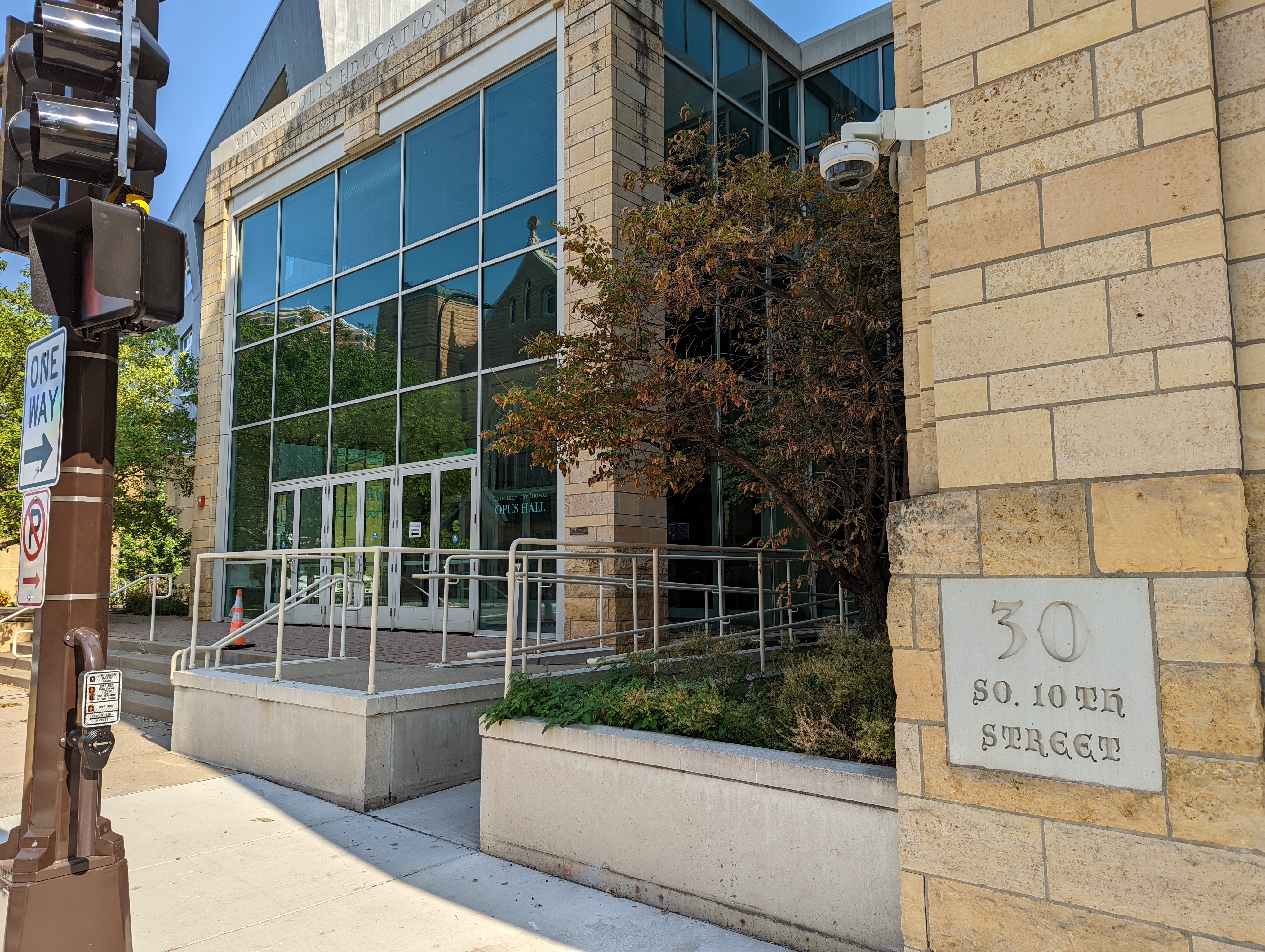 Go up the stairs inside and turn to your right. We should be immediately visible.
Note: the door into the space may be locked. If so, you will need to enter the following code: 6582#.
IMPORTANT:
The FOSS XR meeting rooms will be in the Schulze Hall (two-minute walk from the Opus Hall). When you're all checked-in at the welcome table, head to your left and follow the signs to Schulze Hall, across 10th street through the walkway and passed Terrence Murphy Hall. You'll end-up finding us in there on ground floor : That's the Schulze Hall Auditorium where we'll have our main track.



Travel
Minneapolis is served by the Minneapolis-St. Paul International Airport. You can reach downtown in a variety of ways, including:
Taxi - about $50 and 20 minutes from the airport to downtown
Light Rail - the blue line goes directly to downtown in about 30 minutes at a cost of $2.50. Depending on your hotel, you may have a 10 minute walk as well.
Both Uber and Lyft serve the Twin Cities
Parking
For those that are driving to the venue, park in the ramp located at 935 Hennepin Ave. There is no parking validation.
Hotel
We have reserved a block of rooms at a rate of $169/night at the DoubleTree Suites by Hilton Hotel, which is located at:
1101 LaSalle Avenue, Minneapolis, Minnesota (Google map)
To take advantage of our block of rooms, use this link.
While it is the closest hotel to the University of Saint Thomas Opus Hall at approximately 170 meters, there are also many hotels and choices for lodging near the campus location.
And remember that there is funding available for travel (TBD, link), should you need it.
Things To Do
Walker Sculpture Garden
River
TBD (Twins?)
Getting Around
The conference itself is connected to the Minneapolis Skyway System, which is the largest contiguous system of enclosed, second-level bridges in the world. It should be easy to get lost in our habitrail; it's what natives do routinely.
For going around town, Uber and Lyft generally work well. Taxis in downtown can be sometimes be hailed from the street, but anywhere else you will need to explicitly call one. There is a bike rental facility, and usually many rental scooters lying around. The downtown core is also eminently walkable, both on the street and in the skyway. The Twin Cities public transit system is good if you are going somewhere on the one of the two light rail lines, reasonable if you are going somewhere on a high frequency bus line, and otherwise as you imagine a US mid city bus system to be.
Follow us on Twitter!
Follow us @FossXR for the latest updates and to stay connected. Use the hashtag #fossxr to make it easier for all to see and interact with your posts.